Description
Brand Name: 

OBO HANDS

Model Number: 

F30 10

Fingerprint Capacity: 

1000

identification method: 

Fingerprint, password, RFID card

Dimension: 

90(L) *90(W) *28(H) mm

Communication method: 

U-Disk

Display Screen: 

1.8 inch TFT color screen

RFID Card capacity: 

1000

Password capacity: 

1000

Record capacity: 

100000

Identify speed: 

≤ 1second

Rejection rate (FRR): 

<0.1%

Recognition rate (FAR): 

<0.0001%

Type1: 

Fingerprint Access control

Type2: 

RFID Keypad

Type3: 

Access control keypad

Type4: 

fingerprint attendance machine

Type5: 

time attendance machine

Support Language: 

English
RFID Fingerprint Access Controller
Standalone fingerprint keypad + fingerprint time attendance machine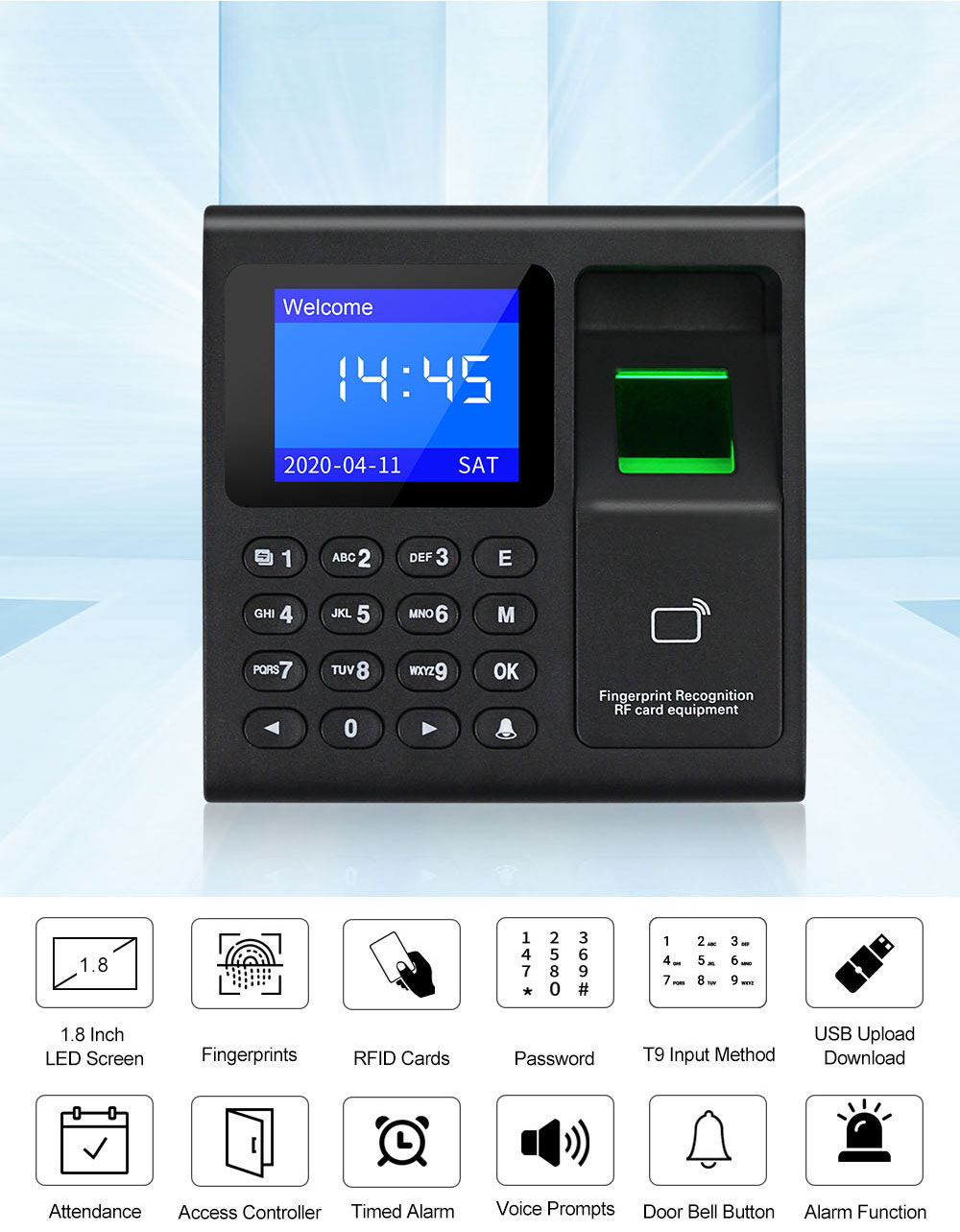 The fingerprint machine is a simple and easy-to-use fingerprint terminal device that can be installed 
in sensitive areas that require authorization to enter, and innovative combines high-security fingerprint recognition with advanced 
management to achieve acces High security management of control.
With this fingerprint time recorder, you can have your staff check in by means of fingerprint, RFID card and password. Support 1000 
user capacity, 1000 fingerprints, 1000 password, 1000pcs RFID cards, 100000 time attendance record capacity.
2) Strictly follow the national security product standard.
3) Adopting the Energy-saving fingerprint sensor and power management function, makes the product perfect.
4) 3 methods to identify the attendance: Fingerprint, Password, RFID card.
5) Support USB Flash drive upload download.
6) Humanized language indication reminder.
7) Suitable for the entrances and exits of office, factory, hotel, school, etc.
8) T9 input method editors, on the machine name, Department, frequency and other information, can be directly 
output attendance reports, user operation is simple
9) Support English language.
10) Has Wiegand26/34 input/output, relay output, door bell button.
11) Support 
tamper alarm function.
Can be used as a standalone keypad, open the door with the fingeprrint, password or RFID cards.
Also, Can be used as a fingerprint time attendance machine, can download the attendance data with U disk.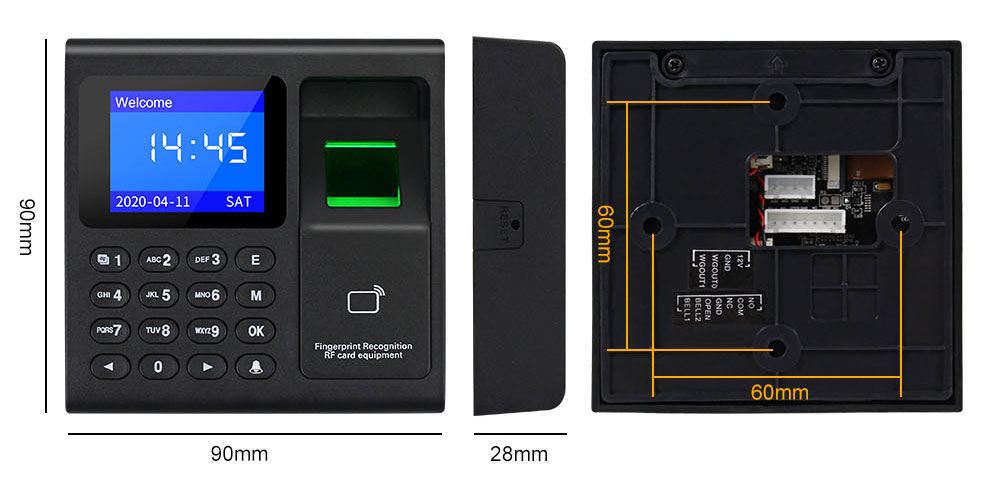 1.8inch Color TFT Screen, English menu
Easy to program with the display. Time and date show on display when standby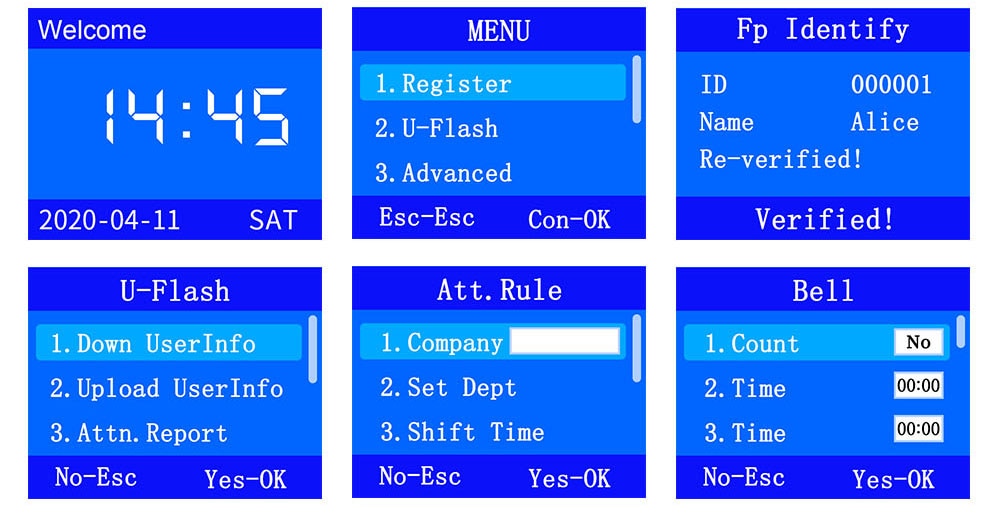 360 degree comprehensive fingerprint recognition, fast Identify Speed
For different angles of fingerprints, it can be quickly and accurately identified, and fast check-in attendance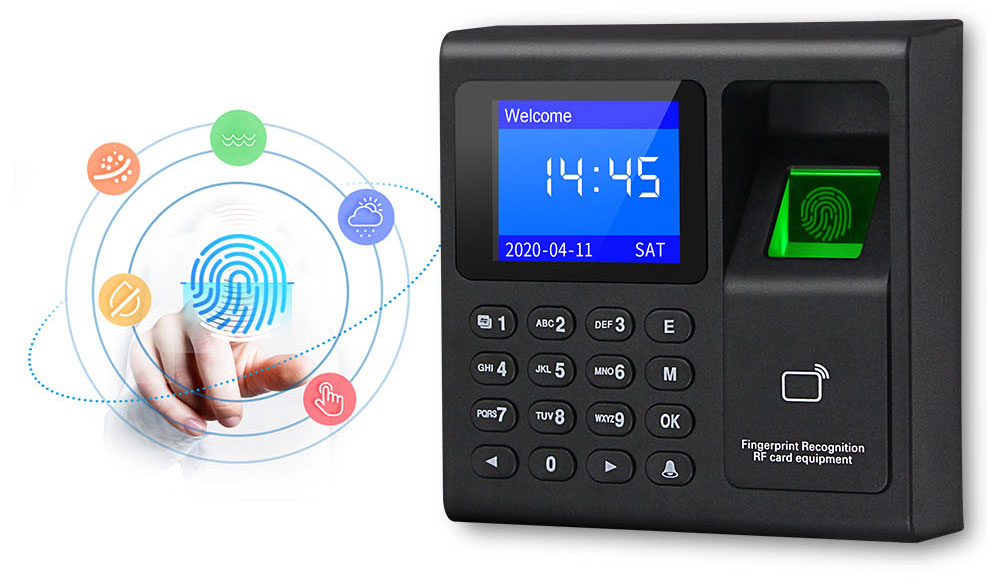 Support Fingerprint, Password, RFID card verification
 mode
Support biometric fingerprint identification and password, RFID card verification to achieve automatic management of .
Data can also be used for attendance, to achieve attendance dual function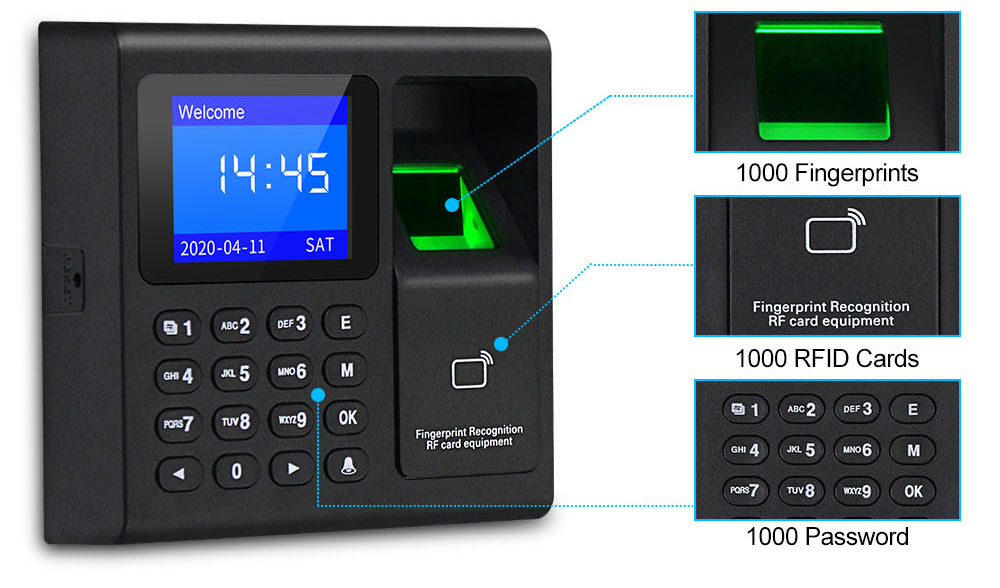 Live voice prompt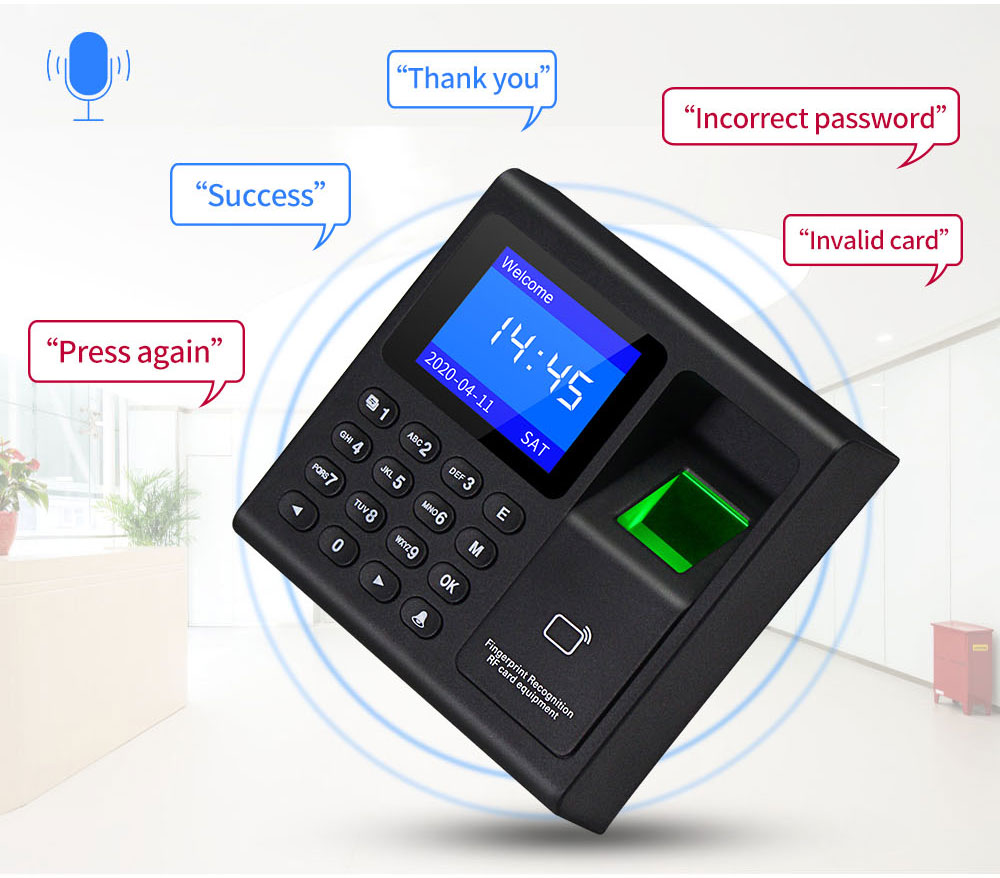 This device support to check-in to attendance without networking. Doesn't need to wiring and connect the 
 network. Support to use U-disk to download and upload the attendance report data. (not including U disk )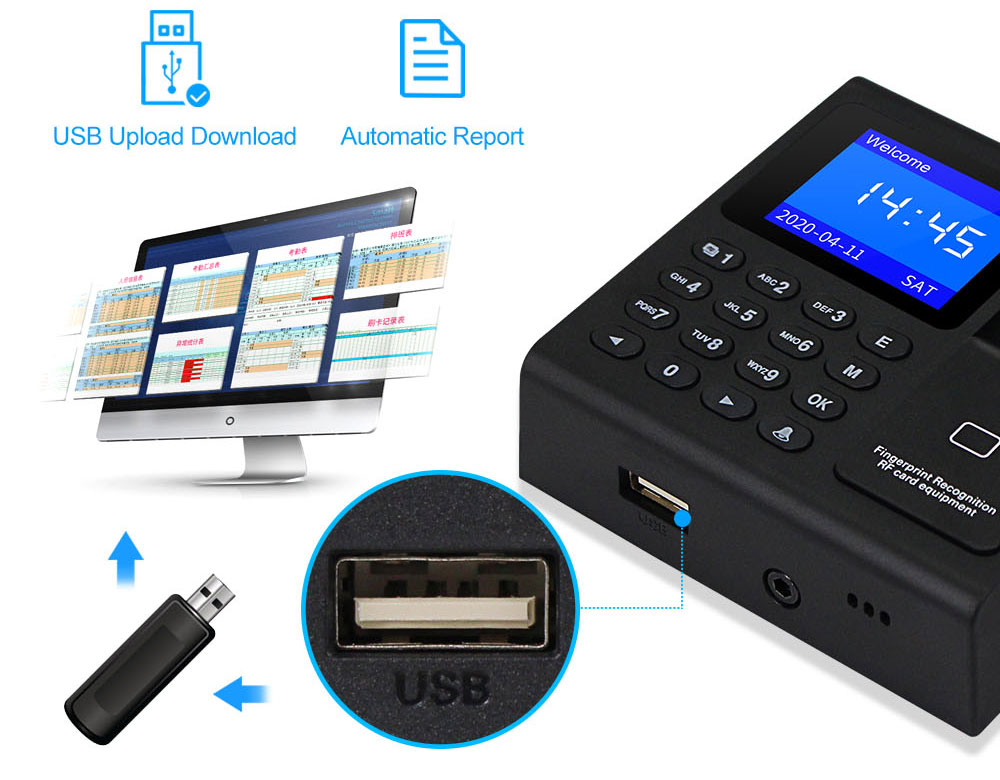 High-quality micro CPU processor, full-featured
The original smart chip adopts advanced programming system, the display operation is simple and convenient, and the function is complete.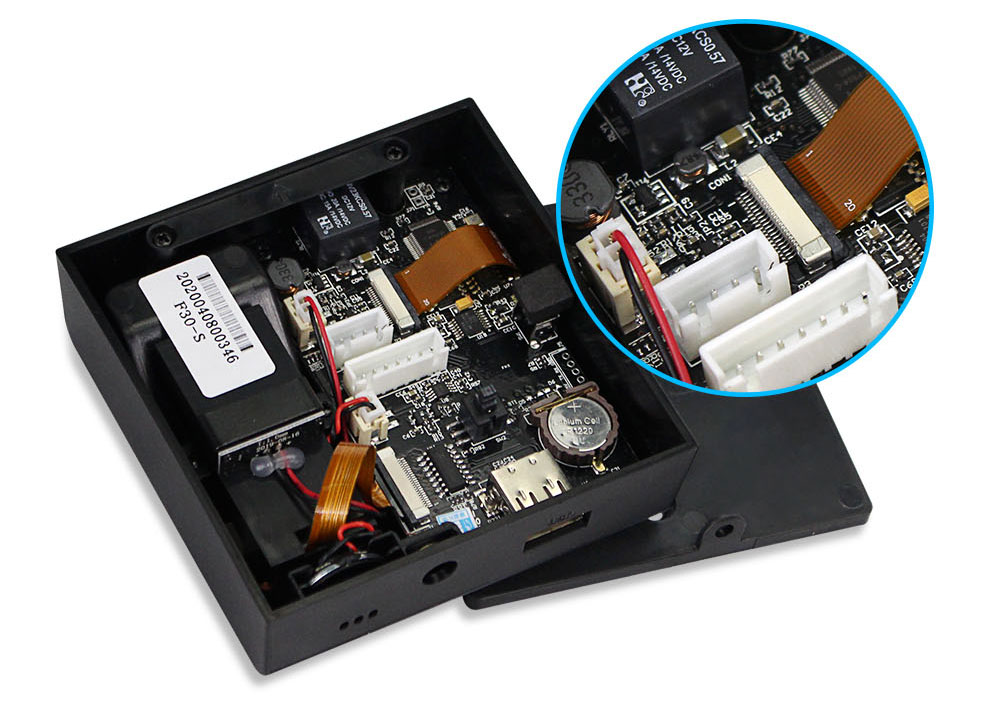 Display screen : 1.8 inch HD LCD Screen Display
User capacity: 1000 pieces
Fingerprint capacity: 1000 pieces
Password capacity: 1000 pieces
Card capacity: 1000 pieces
Record capacity : 100,000 articles
communication method: U-Disk
verification method: Fingerprint, password, card
U disk upload / download data: support
Language display: English
Machine size: 90(L) × 90(W) ×28(H) mm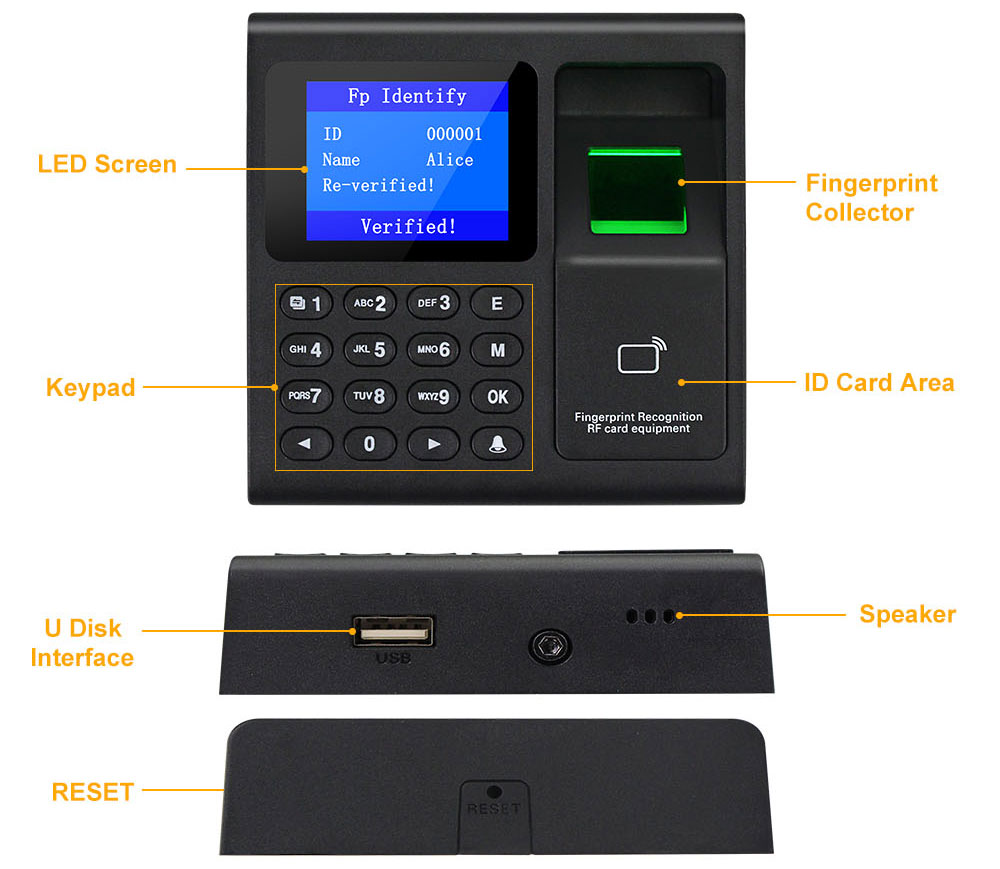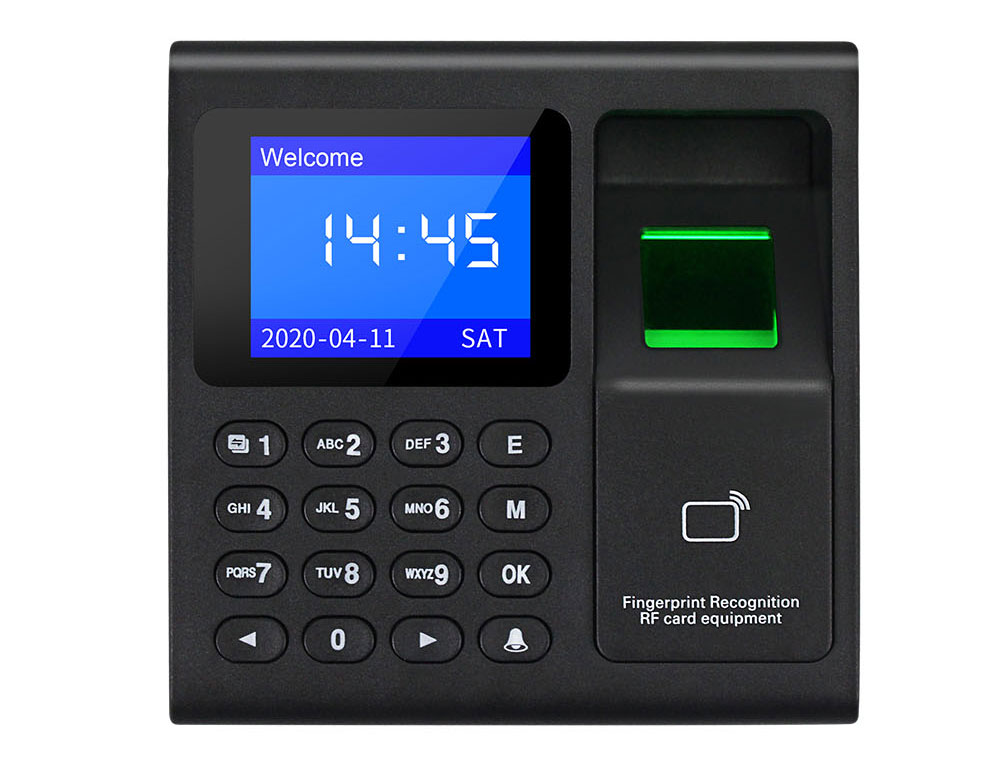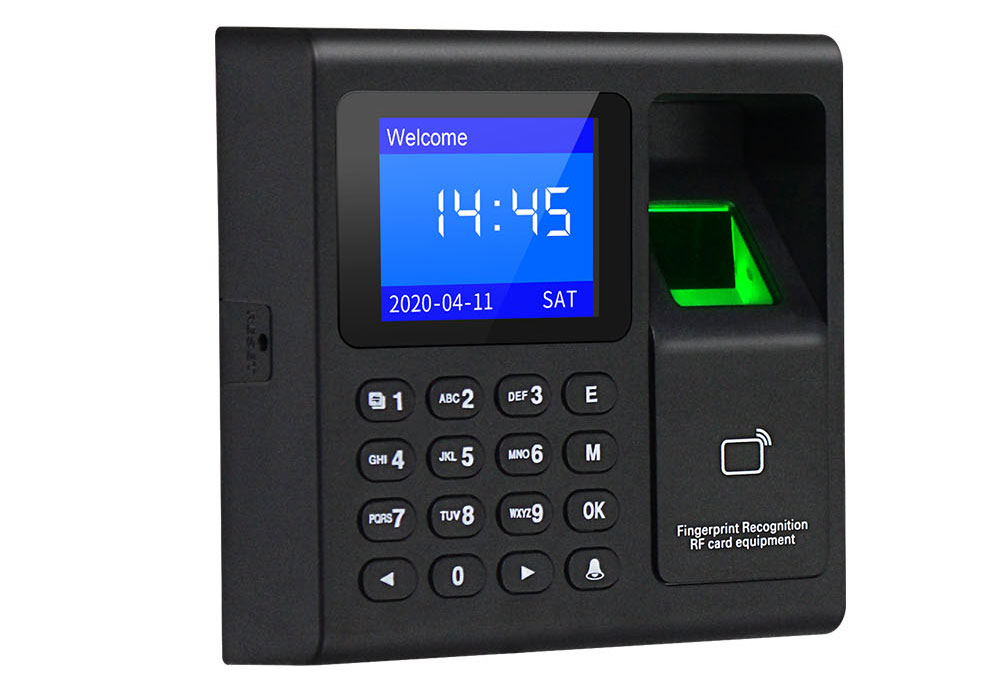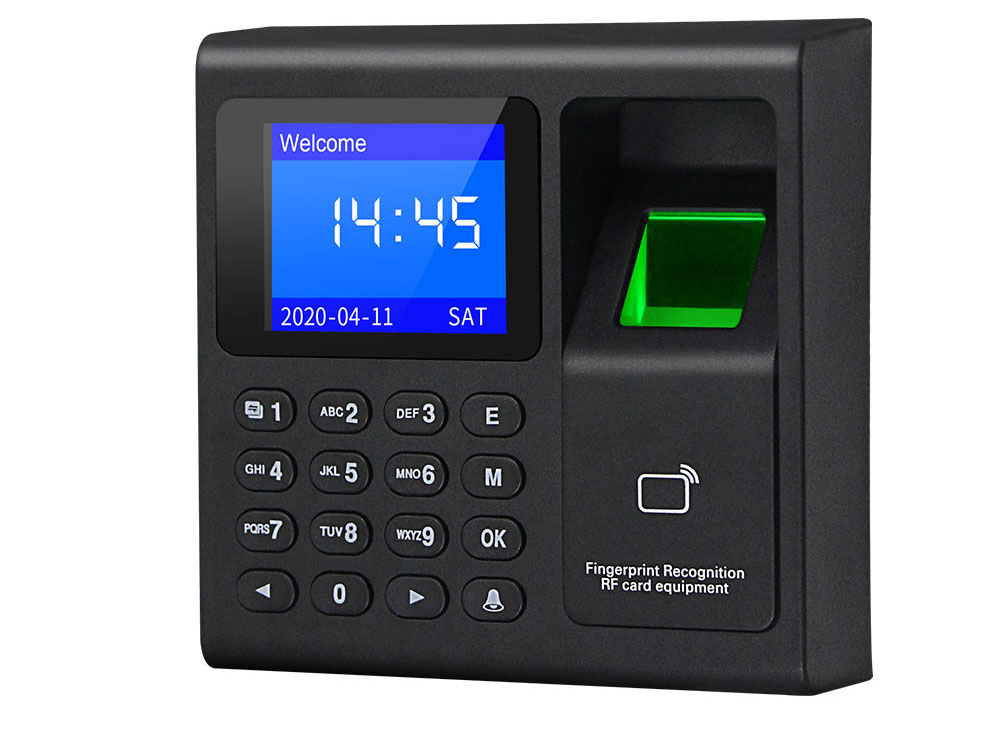 Working with DC12V power supply, electric lock, exit button. Suitable for wooden/metal/glass door
(Both of the power supply, lock, exit button are NOT included in the package, need to buy extra)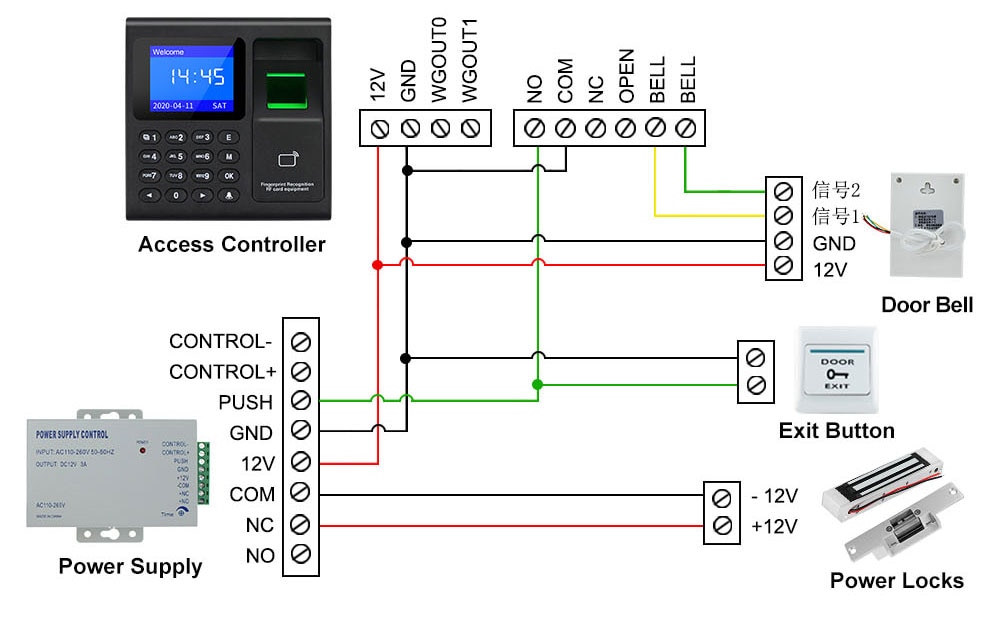 1. Material: ABS
2. Working Frequency: 125Khz
3. Support: read only, not support write
4. Reading distance: 0-10cm
5. Each one has a unique ID number printing on it
6. Color: Red, Blue, Yellow, Green, Black 
(We will send 10pcs BLUE color by default, if you want other color, please leave us a message)